"Mu To Eien" | trs – 028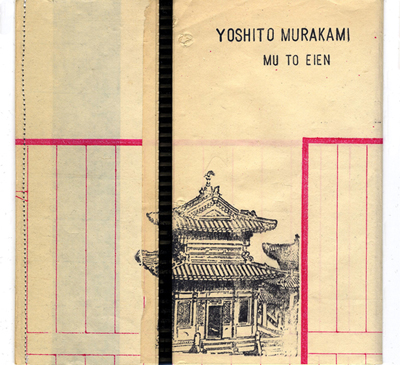 Coming out hot on the heels of The Inventors Of Aircraft, is a full length release from Japanese ambient/drone artist, Yoshito Murakami. Like Japan itself, and like nature and it's seasons as well that have inspired this music…beneath the conceptualized beauty and melodies there is always an unforgiving inner truth, and industrial reality. The din of the cicada gives way to the piercing whine of the industrial machine, and the falling and clattering of the cherry blossoms fade…
Each copy of this release, entitled "Mu To Eien", comes in the form of a handworked, stamped, assembled and sewn, 6″ square booklet of antique Japanese paper ephemera, old fold out tissue maps, Meiji era apothecary ledger pages, and a double sided insert printed on bamboo. Each booklet is banded with a length of a vintage 8MM film depicting the great Japanese earthquake of 1923. Each will come in a lovely "clouded" translucent vellum envelope, spattered with cherry blossoms.
This will be in an edition of 100 copies, with factory pressed discs. There may be a limited amount of a hand printed sleeved version available as well.
Available in mid February!