The Accordion Sessions | TRS071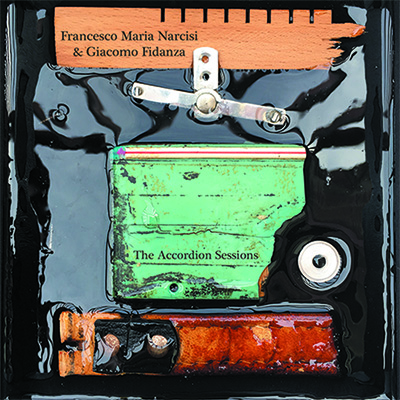 Giacomo has provided the beautifully dense and drone filled accordion ambiances, and Francesco has worked his magic manipulating and processing these sounds, with added field recordings, into a glorious and at times even industrially fueled, expansive wall of aural bliss and intensity. Melodic, and yet fiercely relentless and driving at times…TRS071 is both a fitting soundtrack to these seemingly overpowering days we live in now, and an avant homage to this favorite instrument of more peacefully innocent and nostalgic times.
As ever this release will come in two distinct physical versions. The first deluxe limited version of this release is one of our most absurdly over the top creations yet. It comes in a smaller than usual edition of only 55 copies, of which only 40 will be available from the label… and it will not be available elsewhere.
This insanely time consuming beauty comes in the form of an extensively hand worked, stamped and artified, black hinged and lidded box. Each unique box is covered inside and out with pictures and texts, all individually hand printed on the the back of pages of vintage accordion sheet music, and a strip of salvaged antique bellows fabric. Embedded in the bottom of the box in clear resin is a 3D collage of sorts of disassembled, broken and repurposed accordion parts, keys and buttons. Folded above this is a hand made "paper accordion", and above that the factory pressed disc itself, in a black envelope which is held by the corner of a colorful accordion bellows section. Each box is wrapped outside with thread, which is tied to a hand sewn button, and with an attached vintage playing card as well. Phew!
There is also a very lovely digipak version of this release in an edition of only 100 copies.
"The Accordion Sessions" is also available digitally at our Bandcamp page.
This release will ship the week of June 26 2017.