Tree of Life | TRS073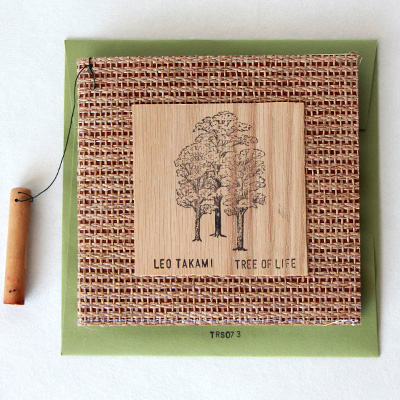 Greetings friends!…it's been an unusually long while since we've been in touch, but we're back just in time for the holiday season, and with our last release of 2017!
After a string of fairly deep and sonically dense electronic excursions, we are ending the year with this lovely, quite minimalistic, electronically treated piano-centric affair from Japanese composer and musician, Leo Takami. Entitled, "Tree Of Life", these 10 patient, languid tracks take their time in evolving…peaceful and innocent in tone…soft and sensitive in nature…almost not there at times…these gentle sounds are made for those most relaxing moments of the day, when you can lie back, empty your mind, and wind down to these seemingly slowed moments in time.
"Tree Of Life" will only be available in one hand made version, in a limited edition of 100 copies. Each of the factory pressed CD's comes housed in a double pocketed package made from folded sheets of vintage grasscloth wallpaper. The front of each folder has attached to it a hand stamped square of wood veneer, each one unique. The disc in it's cotton sleeve is folded inside an illustrated page from a vintage book on the timber industry. There is also a beautifully stamped and sewn strand of 7 vintage kanji language learning cards. Imagery of Japanese landscapes and flora and old musical lesson cards are also contained within. And finally…strung from the front of each folder is an antique wooden Hanko signature seal. And it all comes in a forest green, hand stamped envelope…whew!
As usual each copy is unique and may or may not look like the ones in the photos. This release will ship the week of Dec 9th 2017.