"Time Woke Up In Darkness excerpts Vol 2" | TRS061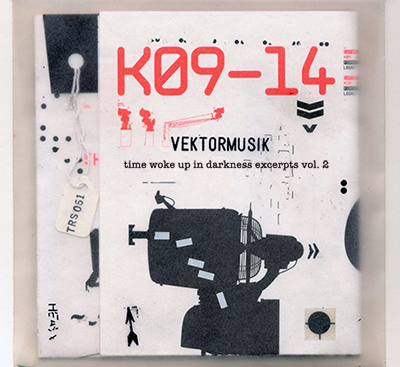 In the depths of this California winter we are pleased to be bringing you this crystalline and minimalistic affair from Danish duo, Vektormusik, entitled "Time Woke Up In Darkness excerpts Vol 2". Originally composed for a theatrical production by Carte Blanche in Copenhagen, this selection of 10 piano infused, glitch and static centric bits of broken electronic loveliness set the tone perfectly for short rainy days such as these.
TRS061 will come in two versions. The first limited edition version in an edition of just 65 copies comes as a collaged and folded double page spread of vector drawings. Each page has then been extensively modified and uniquely "drawn on" with sheets of vintage Letraset lettering. Abstracted numbers, letters and symbols are rubbed, scratched and scraped into patterns on the drawings in red, white and black. Each panel is then folded into 8ths, creating two pockets containing a textual insert printed on antique educational material, an envelope with a factory pressed disc, and a hanging numbered tag, all within a 6 inch square, outer hand stamped translucent envelope.
In 1961 the Letraset dry transferable lettering system was developed, and it was this that made Letraset a household name. These sheets were used extensively by professional and amateur graphic designers, architects and artists up to the mid-1980s. The range of available typefaces became extensive, incorporating both classic and contemporary type designs of the period, and each style was usually available in a wide range of type weights and sizes. This enabled the layman to produce affordable and attractive artwork of professional appearance. As a result, and because of its ease of use, it also came to be used by printers, design studios and advertising agencies.
This release also comes in a beautiful digipak edition of 100 copies.
This release will ship the week of March 14th 2016.