lull | TRS070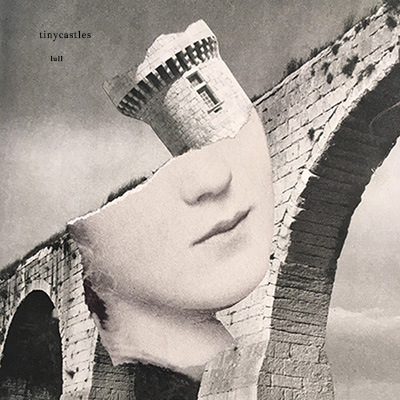 It's April already and this month finds the good ship TRS sailing into ethereally ambient, and shoegazy filtered waters with this months release from Canadian duo, tinycastles!
They say that…"Lyndsie Alguire and Thomas Boucher met in the Fall of 2015 at one of Montreal's drone sleepovers and formed tinycastles to delve deeper into the spontaneous and ambient sides of their respective solo projects. The duo weaves shimmery guitars and synths with lush vocal flourishes that culminate in introspective and delicate droney soundscapes. A meeting point for their diverse influences and styles, tinycastles eschews structured formats in favor of erratic build-ups propelled by soft and intimate loops."
In other words…exceedingly pleasant!
This release will come only in an extremely lovely and quite limited edition of 50 copies. We feel that we've come up with the perfectly elegant accompanying package for these beautiful sounds. Each of the 50 copies comes as a sewn 24 page booklet with a unique, modified vintage wallpaper wrap around cover. The hand worked pages are composed of hi res archival prints of 8 original Colin Herrick collages, a couple of which have flip back options…these prints are printed on the back of various antique and distressed papers, such as pages from a rare copy of The Universal Penman, original 160 year old French architectural drawings and others. Interspersed in each are fold open pages from an antique book of appropriately architectural and gothic american glassware, and a vintage strip of portuguese decorative shelf paper. Each booklet is sewn into it's cover, hand stamped and labelled and held tight with an elastic band. Also inside is a mounted small black envelope with a hand artified 3" Mini Cdr.
Yikes…this one is a keeper!
This release will ship the week of April 20th 2017…