Above | TRS060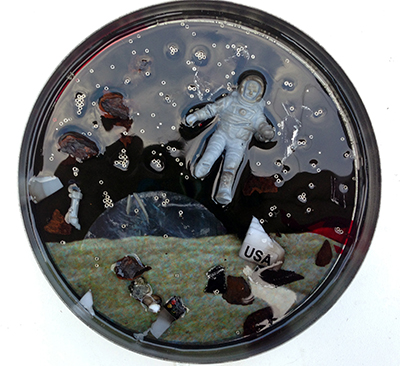 Time Released Sound takes listeners into deep space this time with a classic ambient drone album from Italian artist, The Star Pillow, entitled "Above". The Star Pillow is Italian, Massa Carrara based musician Paolo Monti, and this new guitar centric spatial excursion from him is a real beauty…encapsulating all that is evocative and appropriately soundtrack based about this genre. From the moments before the rocket lifts off…through it's five track, star filled and weightless voyage…"Above" takes you on a soothing, slow-motion flotation sensory trip into the atmospheres of your mind. Re-entry comes all to soon this time around…this release was recorded live one afternoon in the much loved, and appropriately named club, BTomic, in La Spezia, Italy.
As always this release comes in two versions. We have gone even more over the top than usual on the limited edition version, which comes in a run of only 55 uniquely individual copies. Each hubbed, factory pressed disc comes housed in the lid of a vintage Kodak film can, each one in it's original box, with an expiration date of 1969…the same year as the first moon landing! Each can is modified inside and out with original NASA photos from the same year as well. Then, inside each can is a space drama diorama of sorts…embedded in polyurethane is a hand burnt and distressed astronaut figure, blown out of his capsule on impact and floating weightlessly away through a field of actual meteorite chunks, individually melted bits of his space craft,  jagged shards of metal, tiny beaded stars and other man-made debris. Each can in it's stamped box then comes wrapped up snugly in a folded and string tied antique NASA photograph w/ hand printed numbered insert on the back, with an extra NASA photo or postcard inside as well.
We'd had this packaging in mind for quite awhile and were just waiting for the perfect music to come along…which it has….thanks to The Star Pillow!
This release also comes in an extra beautiful digipak version of only 100 copies.
This release will ship the week of February 15th 2016.