"Where The Light Stops" | trs – 027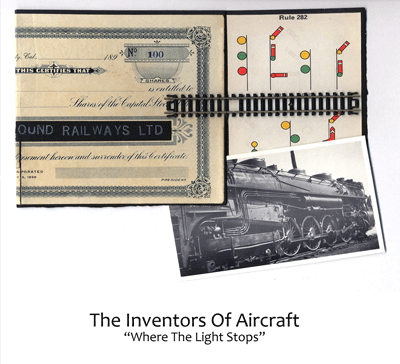 We at TRS are very pleased to be bringing you this newest release from The Inventors Of Aircraft, entitled "Where The Light Stops". Inspired in particular by the decline and privatization of the railway industry in the UK, and the consequent many melancholic and abandoned railway stations throughout the country….this full length album with it's nostalgic and elegiac electronic vibrations, captures in an abstract and yet familiar manner the conceptual atmospheres and mental imagery connected with trains and their reference points…of the countrysides flashing by…of the rumbling of the tracks…and in general of a feeling of loss and distancing from those slower times and leisurely travels of the past. Using sampled field recordings and electronically treated instrumentations, TIOA brings out the trainspotter in us all…and leaves us longing to purchase a ticket to a dream.
In a limited edition deluxe version of 100 copies, each of these comes in a hand sewn, 5.5″ x 14″ folding wallet type sleeve…fronted with a numbered, 100 year old stock certificate from the now defunct Time Released Sound Railways Ltd. Each is held closed with a stretch of train track, and tied off with string. Inside are antique gravures of the passing countryside, vintage signal diagrams and descriptions, and a working red light! Each will come in a hand labelled black envelope. Also…everyone that purchases a copy will be separately mailed a unique, antique steam train postcard w/ hand workings…which upon arrival will fit nicely into the sleeve, and become a personalized part of the package!
This will be available in late January…