"Author of the Twilight" | TRS – 36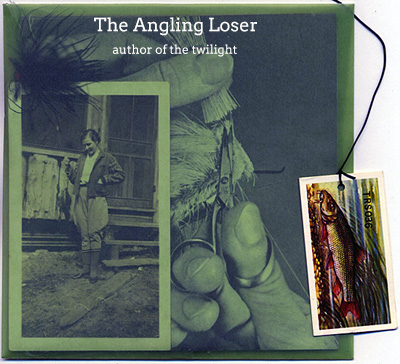 TRS036 is the first full length release from The Angling Loser, (aka Lee Anthony Norris and friends). This is an absolutely lovely paean to those lost and relaxing bucolic English afternoons, standing on the banks of gentle streams fishing pole in hand, listening to the birds, and the wind, and the gently flowing waters as they carry your dreams and lures downstream. This pastoral blend of treated guitar centric electronics, and sampled voiceovers and field recordings is a blissful and pleasant way to spend the day indeed!
This release is available in two versions. This first deluxe version, in an edition of just 100 copies, comes in a 5.5″ square, hand stamped watery green translucent envelope. In each envelope is a 15- 20 page, hand sewn fly tying flip book, antique fishing photos and postcards, a page from an antique anglers journal (some pages hand inscribed), and a two sided hand printed insert. Each envelope is strung and tagged with a hand stamped, vintage, fishing cigarette card. Each of these also comes with an originally packaged, vintage fishing lure.
This is a double disc release. All copies of both versions come with a wonderfully ambient remix disc as well…with interpretations by Stormloop, Ishq, Porya Hatami, Daniel J Davis, Joel Tammik, Solopsism, Shambala Networks, Sir Cliff, and Logreybeam.
Both discs are factory pressed replicated discs.