Kira | TSM03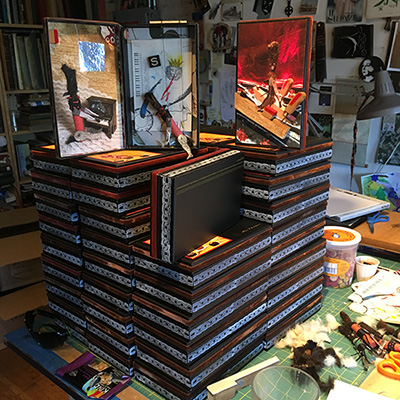 TSM03 is the first full length release from Bologna, Italy based duo So Beast. So Beast are Katarina Poklepović & Michele Quadri….and the name of the album is "Kira". Katarina is a classically trained pianist/visual artist from Croatia, and her partner Michele is of Congolese/Italian descent…a thoroughly modern couple making music for 21st century ears!
"Kira" is a quite often propulsive, avant experimental affair, dramatically driven by Katarina's prepared piano playing and Michele's electronically treated guitar. With Croatian vocalizations, voice overs and samples, frantic lyrical interplay between the two, and an overall sense of upbeat and somewhat excitable and positive energy…this album is an electric/eclectic way to ring in the end of the year! Urgent…mysterious…subtle…dynamic and expansive in tone…the moods on this album twist and turn your mind, and will definitely keep you on your toes! This amazing 78+ minute affair ends with an 11 minute "ambient" excursion that will help bring you back down to earth!
"Kira" will be released in two physical versions. The first, limited edition version in an edition of only 51 copies, of which only 40 will be for sale, and only at the website, is an absolutely insane object. We will be using the last of our "chocolate boxes" to house what is possibly our craziest most labor intensive package yet.
Each 5.25" x 8.5" hinge lidded box is stamped, fabric trimmed, hand lettered, and covered on the outside with high resolution photos, a footprint of the musician's baby Kira, and an attached little wooden boat made from an ancient piano key. Inside each box is a set of three more modified hi-res prints of the "So Beast" in action… photographs taken in homemade 3D dioramas of the Beast's art studio… with accompanying vials of vintage pigments and tiny clock parts, a unique wooden and metal So Beast marionette doll (made from strange, cut apart vintage "push me-pull you" figures found at an antique sale), with beaded face, paint brush arms, and hair taken from Katarina's own recently shorn dreadlocks. Each box also contains an original painting that the So Beast itself is in the process of working on in his "studio" and other ephemera pertinent to So Beast's overall, over the top artistic lifestyle!
As usual each of these boxes is different, and may or may not be the one/s pictured in the photographs.
There is also a beautiful digipak version of this release in an edition of 150 copies.
This release will ship the week of December 18th 2016.