"Sinneplakken" | TRS – 20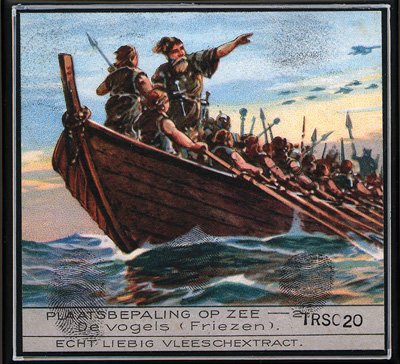 TRS020 is a full length release from Romke Kleefstra, his brother Jan Kleefstra, Sytze Pruiksma and Christiaan Kuitwaard, called "Sinneplakken". With it's conceptual basis set in the history and atmosphere of the Frisian Islands, this music is steeped in those shorter days and longer nights of mysterious northern climes. The Frisian poetry that is being read on several tracks is blended with the electronics and sampled sounds of these flat, sub sea level islands, and the spirits of a long founded and somewhat obscured pagan past. Settle in with your cup of supplied East Frisian Black Blend tea, and enjoy this melancholic and deep felt minimalistic ambiance!
This fifth release in the "chocolate box" series comes in an edition of just 80 uniquely hand made copies. Each comes in a heavy duty hinge lidded chocolate box, collaged with Frisian Vikings, and containing a see through removable sectional container with genuine Frisian soil, two bags of Black Frisian tea(one to drink while listening!), a tri-fold popup hand worked insert on Moab 300gsm fine art paper, two hand stamped mini discs and other goodies. As with the other boxes in this series, all come with felted bottoms as well.…and as with the other releases in this series, this will also be available at some point on a standard 5″ replicated disc in picture sleeve. These sleeved discs will be offered to those persons ordering the complete set of limited boxes,in advance…at a greatly reduced cost!