"The Diary Of The Second Officer" | TRS – 19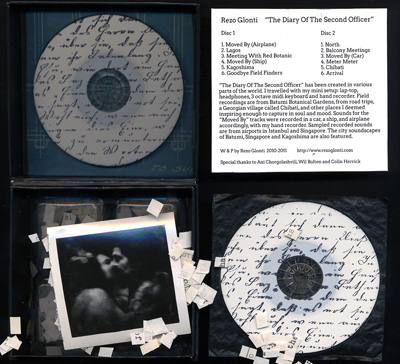 Time Released sound is very pleased to include TRS019, this first release from the Georgian sound artist, Rezo Glonti's "The Diary Of The Second Officer", as part of it's upcoming "chocolate box" series. This lovingly crafted ambient voyage is a sort of imagined audio diary of a Second Officer…of a ship?…of a plane? We're not sure, but Rezo himself lived this voyage himself, traveling about the world with his recorder, laptop and keyboard….and the resulting sounds and atmosphere we bring to you here with this release will sooth your own stay at home selves! Well…until it is time for you yourself to fly! This release has been mastered by Wil Bolton.
As Rezo himself says…
"The Diary Of The Second Officer" has been created in various parts of the world. I travelled with my mini setup: laptop, headphones, 3 octave midi keyboard and hand recorder. Field recordings are from the Batumi Botanical Garden, from road trips, as well as from a Georgian village called Chibati, and other places I deemed inspiring enough to capture in should and mood. Sounds for the "Moved By" tracks were recorded in a car, ship and airplane accordingly, with my hand recorder. Sampled recorded sounds are from airports in Istanbul and Singapore. The city soundscapes of Batumi, Singapore and Kagoshima are also present on this album."
This fourth release in the "chocolate box" series comes in an edition of just 80 uniquely hand made copies. Each comes in a heavy duty hinge lidded chocolate box, collaged with antique blueprints and containing shredded antique diary pages, antique mini b/w film stills, two sided hand worked insert on Moab 300gsm fine art paper, two hand stamped mini discs and other goodies. As with the other boxes in this series, all come with felted bottoms as well.…and as with the other releases in this series, this will also be available at some point on a standard 5″ replicated disc in picture sleeve. These sleeved discs will be offered to those persons ordering the complete set of limited boxes,in advance…at a greatly reduced cost!