"Arrivals And Departures" | TRS – 46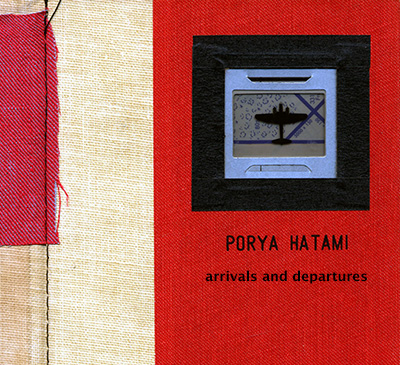 Time Released Sound is very pleased to be bringing you this new full length release from Iranian electronic soundscaper, Porya Hatami, entitled, "Arrivals And Departures". This is an absolutely calming, flowing, synthy excursion into the skies…filled with flowing melodic cloud formations and never ending jet streams…please take your seats, and enjoy this most beautiful and realizing of flights! The skies have never seemed so inviting!
As usual this release comes in two versions. The first, and absolutely appropriate limited version, in an edition of just 75 copies, comes in the form of a hand assembled and artified, 6" x 8" sewn booklet full of aeronautic ephemera…or "Pilot's Logbook". Each appropriated, vintage, outer hardback cover has been laser cut, and inset within each cover is an antique glass, airplane identification slide. Inside are pages of runway identification diagrams, vintage airport photos, flight instruction manuals, and actual pages from vintage pilots logbooks, some handwritten on. Each also comes with a unique, tipped in vintage aeronautic snapshot as well. The factory pressed disc is slipped into a vintage airmail envelope. And slipped into the spine of each booklet is a vintage pencil, with which to take notes of your own!
TRS046 is also available in a digipak version in an edition of 150 copies.