"Collected Machine Music" | TRS – 11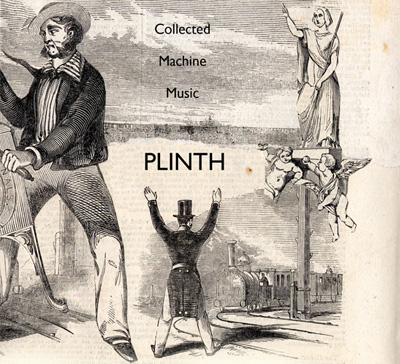 TRS 011….The Plinth, "Collected Machine Music", release is available in two versions. This deluxe version, in an edition of 70 insanely hand made copies comes with a music box, and original song strip hand punched by Michael Tanner, to be played through it. 35 copies are available now, the other 35 will be available in 6 weeks or so. The first 35 people to order will get one of the first batch, once those are gone, and if you have ordered subsequently, you will automatically have one of the second set reserved for you, and you will pay for it when it is ready.
Each beautiful, very heavy duty, hinge lidded, 8.5″ x 5.25″ chocolate box is collaged/hand worked inside and out with 150 year old English engravings, original victorian calling cards, clock hands, brass nuts and bolts, hand printed insert and other ephemera. Screwed to the inside of the box is a miniature music box mounted to a stained oak base. Nestled in each box is the signed, numbered, titled, and hand annotated original song strip from Michael Tanner. These unique little tunes were composed on a harp and painstakingly transcribed to the strips by punching one hole at at time! No two songs/strips are the same. Tied to the outside of the box with a ribbon is the digipak w/ replicated factory pressed disc.
This disc contains both remastered versions of the 8 songs that were on the ridiculously limited "Plays Victorian Machine Music" ep, that came out on the Rusted Rail label sometime back, and 7 new songs also created using old victorian music boxes, calliopes, wheezing mechanisms etc. The digipak itself is in an edition of 200, 100 of which are available separately at the website as well.