"Over Exposure" | TRS – 04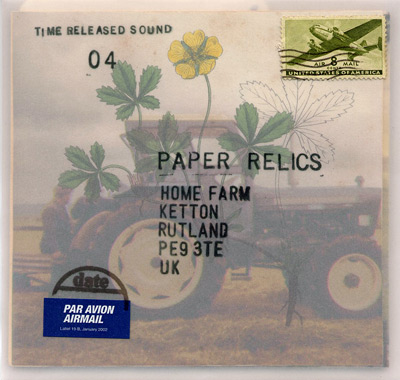 The fourth release from Time Released Sound will be the feature full length album from Paper Relics, called "Over Exposure". Comprised of Harry Towell (of Audio Gourmet music blog fame,) and his brother Stuart Towell, this initial release from the brothers lovingly captures the essence of the North English countryside and rural lifestyle in which they grew up and still live. Through both the photography / packaging and the music, the timeless passing of the seasons and generations of long hot lazy summers and frost covered winters of the farming life, and of their lives, are brought to the fore, and even the most urban of us will be left with the feeling of nostalgia and loss that this album evokes. Soon the family farm that inspired this pastoral project will become another housing development, and as another lush slice of English countryside is swallowed up, the plaintive and homespun memories and melodies contained within this release and the "paper relic" in which it is assembled and showcased will be all that remains!
Prominently featuring the languid, pseudo bluesy, and appropriately lo-fi guitar work of Stuart, the music is a melding of the acoustic instrumental and the digitally manipulated. Harry, also well known for his more straightforward ambient works as Spheruleus, adds to the overall nostalgic background and feel with a mixture of field recordings and subdued, scratchy vinyl electronic washes. The sounds of Stuart's chair shifting on the floor as he plays, of water falling outside, of the nature surrounding the country home in which they live…all add to the wistful and somewhat melancholic tone of the 12 songs on this release…over exposed indeed!
As will be the case with most of the future Time Released Sound releases, "Over Exposure" will be available in two versions. Each of the 65 limited version packages comes as a personal letter from Time Released Sound to Paper Relics…complete with hand sewn 20 page booklet of "paper relics", including printed antique botanical prints, collaged old wallpaper bits, hand written naturalist notes, hand stenciled credits and track listing sheet, and 5″ thermal printed disc in a hand worked inner sleeve, all in a hand stamped and lettered 6″ square translucent envelope. Each of these copies of the limited edition also comes with an extra 3″ mini disc containing the original Paper Relics four track, "Recovered Artefact" ep. May include some plant matter as well! There will also be a second standard yet uniquely lovely digipak version of 100, though it does not come with the extra 3″ ep. As is usually the case, the pictured envelope is not necessarily the one you will receive, as all copies are uniquely beautiful and differ slightly. Not to be missed!