"Trespassers Guide To Nowhere" | TRS – 024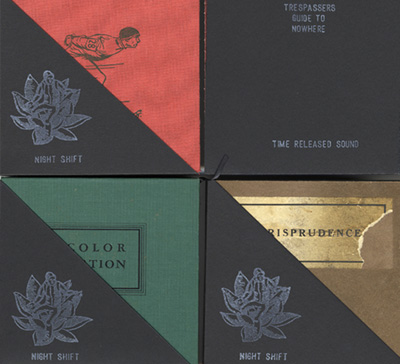 Coming up next release wise, will be a full length collaborative effort between the Russian trio Night Shift, and the main man behind my favorite Finnish band Ous Mal, Olli Aarni. An incredibly inventive sampledelic mash up of Russian folk melody, filmic referenced dialogue, field recordings and crushed and twisted electronic nuances, this cerebrally manipulative release is not one to be missed! It will be available in two versions….
The first, deluxe limited version of 100 copies will come in the form of a"faux-rigami" pop up book of sorts, each hand bound with unique antique book covers, and including hand printed/typed inserts, and pop up pages made from the oversized sheets from a 100 year old hand written ledger…all encased in a hand made/stamped black slip case. See attached pics please!
There will also be a lovely digipak version in an edition of 150 copies, also with factory pressed discs. This should be available for preorder at the end of August.