Brach Auf | TRS063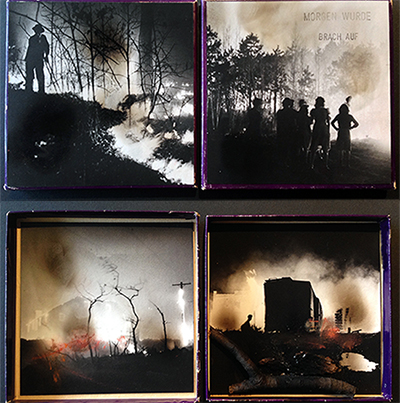 We in California are heading into the early days of summer…forest fire season is nigh upon us, and it is just these sorts of forces of nature that bring us our upcoming May release. TRS063 is a haunting and intense reflection on these natural forces from Kiel, Germany based artist, Morgen Wurde (Wolfgang Röttger)…and it is entitled "Brach Auf". With its intense drones and dark swirling synths, liturgical vocals, and overall cinematic electronic feel, this is a soundtrack for watching the fires burn and the embers fly!
As usual this will be released in two versions. Each copy of the deluxe limited edition of 65 copies comes housed in a vintage 5" reel to reel tape box. Each box has been covered inside and out with darkly evocative anonymous press photograph imagery of forest fires, from the 1940's. Contained in each box is organic material that has been burnt in place, along with the photographs themselves. Each box is then then hand manipulated and stamped. The factory pressed disc comes in a hand burnt, 5" midnight black envelope also containing a singed insert with the album info, a folded page from a rare Forest Service Handbook, and a pack of very appropriate flower seeds to plant upon the inferno's passing. Each box then comes in a hand burned, vintage outer advertising envelope… And as you shall realize, the ashen smell remains…
There is also a lovely digipak version of this in an edition of just 100 copies.
This release will ship the week of May 30th 2016.