TRS – 33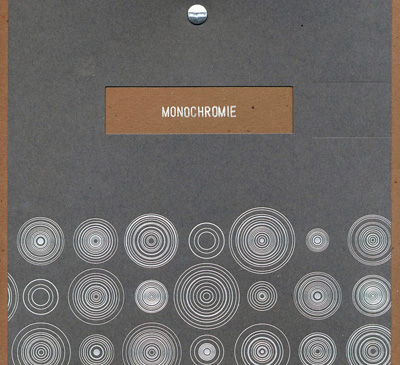 Up next, in early to mid August is an absolutely beautiful, piano centric affair from Monochromie, aka Marseilles based, French composer, Wilson Trouve'.
This is ambient melancholy at it's loveliest…upon hearing them, these wonderfully evocative and plaintive melodies will remain with you throughout the day. Pastoral, emotive and nostalgically treated instrumentation and electronics, that leave a whole lot to the imagination…as all the most beautiful music does. This album is mastered by Wil Bolton as well.
This release as well will be available in two versions. The first limited version, in an edition of 100 copies, comes in a modified, flapped 9″ square folder. Each folder has a cut out, silvery printed print on the cover. Each folder contains a set of 4, 8.5″ square prints made from spray stenciled/collaged sheets of vintage wallpaper. This set of 4 prints is sewn together top and bottom, and folds in upon itself, or unfolds to be hung on the wall. This entire package, prints within and factory pressed disc in a separate stamped envelope slotted to the back, is screwed together with 3 small aluminum screws. They must be easily unscrewed to access either the prints inside, or the disc in envelope on the back. It took me forever to make these things…and it may take you almost as long to access it!!
This will also be available in a standard 4 panel digipak version… in an edition of 200 copies.