"Mirror Lands" | TRS – 55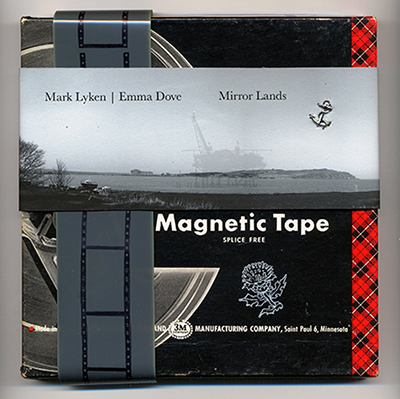 For our 55th release we at TRS are very pleased to be bringing you this soundtrack to the film, "Mirror Lands", by Mark Lyken and Emma Dove. Working in sound, music and film, these two regular collaborators are Scotland-based artists with a mutual interest in relationships to place and the complex interactions between humans, nature and industry. In their work they are drawn to revealing beauty within the ordinary and the musicality of the environment. This soundtrack is a lovely combination of minimal pastoral piano infused arrangements, industrial and natural field recordings, voice overs, and evocative electronics.
As usual TRS055 will come in two distinct versions. Each copy of the limited deluxe version, in an edition of just 65 copies, comes housed in a vintage 7" square reel-to-reel tape box. Each box is double banded on the outside, and is uniquely covered and filled with vintage prints of the Highlands of Scotlands, antique fold out maps of the country, a layered mirrored watery "landscape", and pages from 100 year old travel books…w/ the usual hand printed and stamped inserts, and a printed link to a private viewing of the Mirror Lands film…just watch and listen please!
This is the lovely digipak version in an edition of just 100 copies. Both versions come with a factory pressed picture disc.
This release will ship the week of September 25th.