Beyond Time | TRS067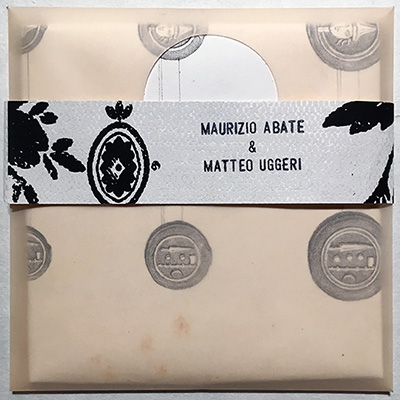 We at TRS are very pleased to be bringing you our exceedingly pastoral and evocative November release from Italian artists' Maurizio Abate and Matteo Uggeri. This collaborative release is an electronically treated, guitar centric affair that incorporates field recordings, voiceovers and a general neofolk ambiance that takes you back beyond simpler times to a simple place from whence we all came. Mysteriously elegant beauty with a particular Italianate feel, and a timeless love of the artist's pasts and history with all it's nostalgic appeal and overwhelming memories. TRS067 will leave you dreaming of personal histories of your own!
As always this release will be available in two distinct versions. The first, limited fine art version comes in an edition of only 70 copies. Large sheets of elegant, vintage wallpaper are sized, folded and sewn into a three pocket, 6 panel envelope of sorts. Each of these hand stamped, cut out and manipulated beauties is collaged with and contains details of 80 year old Italian art prints, an iridescent silk panel, lovely photos from a book on Italian fountains through which thread is flowing, vintage pastoral photographic prints, old watchmaking catalog photos and an envelope of dried leaves. Each of these folded envelopes comes wrapped in a page from a 150 year old book on Roman coins, and in contained in a banded outer translucent envelope. Pastoral and evocative to the extreme!
There is also a beautiful digipak version in an edition of just 100 copies.
This release will ship the week of November 28th 2016.