"Trace Of Voices" | TRS – 49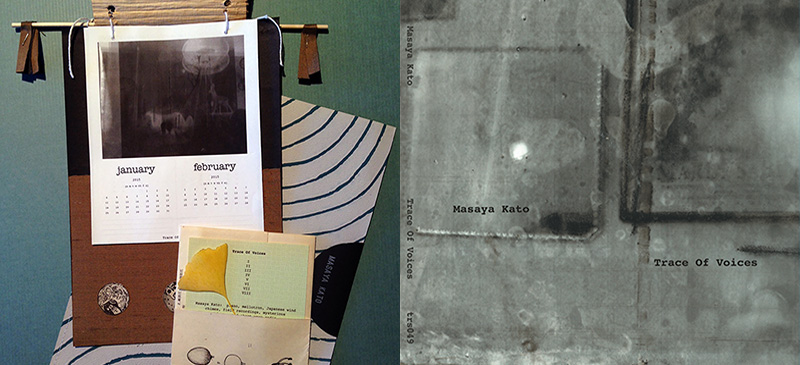 Available in early January will be our 49th release…a beautiful album of minimalist pastoralism from Japanese composer Masaya Kato, entitled "Trace Of Voices". It's piano based ambiances, with its obscure samplings, field recordings, and overall Japanesesque tones, are the perfect accompaniment to these long, relaxing mid winter evenings!
The deluxe version, in an edition of just 65 copies that are only available from the TRS website this time, comes in the form of a hand made, Japanese style, 2015 calendar/scroll…featuring six beautifully printed photos by Warsaw based photographer, Irina Urumova. Each calendar/scroll is made of cloth book binding paper, is pre strung to hang, and has a pocket that holds the factory pressed disc with hand printed insert, in a sleeve made from a page of an antique Japanese book of floral drawings. The calendar itself comes in a large, hand stamped and sealed envelope made from unique block printed wallpaper. Also included are pressed Ginkgo leaves from a tree in front of TRS headquarters…and other appropriate ephemera!
There is also a lovely digipak version of this release, in an edition of 150 copies.