"Get Lost" | TRS – 05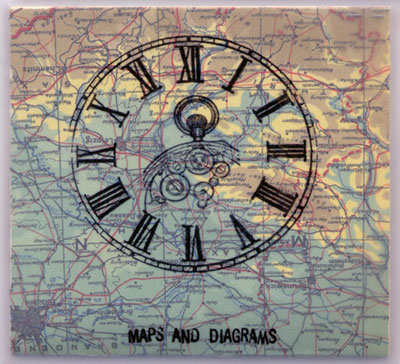 For their fifth release, Time Released Sound is extremely pleased and excited to be bringing you the new effort from the multi talented and alternately affiliated maps and diagrams! With previous releases on Moamoo, Static Caravan, Expanding Records, and others…as well as his efforts as one half of the brilliant Hessien output, maps and diagrams will be a much welcome addition here, and is a release we have done proud with this uniquely personalized packaging!
Aptly entitled, "Get Lost", this fantastic multi layered merging of the esoteric yet lovely and familiar feeling is a combination of live-instumentation and original and resampled and sequenced electronic sounds. Added to these successfully intricate patterns of waves and static are field recordings and live synthesizer. With this new release maps and diagrams conjures forth nostalgic echoes of the past, referencing the musical histories of days gone bye in a distinctly thematic fashion. As mirrored by the packaging, the songs on this release are miniature land/sea scapes of their own. The album begins with a distinct nautical and ocean going feel… as the calming first song ends we leave port with the feeling that a mysterious voyage has indeed begun. And like any voyage, either purposeful or directionless, the songs on this release proceed in an ever changing yet perfectly smooth and continuous manner. As we and our ship are now out on the waves, the sound swells, then dips, then swells fuller and finally flattens slowly and melodically into an extended peaceful calm… then just as we realize that we are in sight of land, the buoys clang, and the wind begins to rise again! maps and diagrams has again created an
indelible electronic world of his own… one that we travel in as well, and in which we are both lost, and found. Get lost indeed.
This amazing album will be released in two versions, both with factory pressed replicated discs…not CDR'sI
In an edition of 60, each of the first deluxe hand made version will come in a sleeve made from pages of an antique world atlas. The disc itself will come in an, again, uniquely artified interior picture sleeve, which will be slipped into the outer map/sleeve along with esoteric and most mysterious diagrams from the artist himself! Also included will be a strip of "get lost" stickers, which should be used in a sparingly yet appropriate manner, in order to help spread the word! This entire package will come in an 5.5″ square stencilled translucent envelope, with mini compass attached…although one may become lost in the music, the maps and compass will lead you back.
There will also be a second, standard, yet uniquely lovely digipak version… in an edition of 300.