"In Circles" | TRS – 37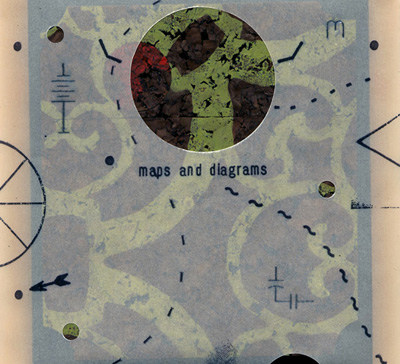 Time Released Sound is beyond pleased to be releasing this new album from Maps and Diagrams, entitled "In Circles". Conceived in part as a follow up to his extremely well received 2011 album, "Get Lost"… this too is an absolutely classic, languid mix of melodiously flowing and organic electronica of the highest caliber.
TRS037 will be released in two versions. This, the deluxe version comes in an edition of only 70 copies. Each of these hand altered black digipaks comes collaged, punched and inlayed inside and out with antique, ornate silkscreened Spanish cork wallpapers…even the spine! Like the digipak itself the black, double sided hand printed and punched textual insert has had all edges blacked out as well. The digipak itself comes in an extensively hand stamped, hole punched, inked and diagrammed translucent envelope…also included in each is a 75 year old page of hand drawn and written diagrams and text. While Get Lost was all about the maps….In Circles is all about the diagrams…in your mind!
The standard, printed digipak version of this release comes in an edition of 200 copies. Both versions come with a factory pressed replicated disc.