"Clair Obscur" | trs – 031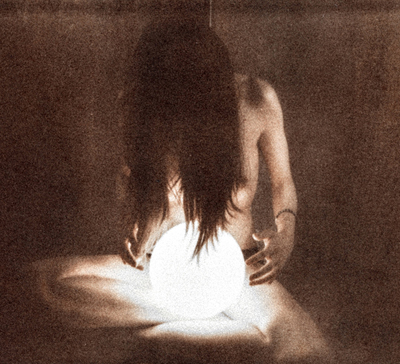 Slipping in just before the long awaited Benjamin Finger extravaganza, will be TRS031…a lovely mini disc release from Canadian pianist and soundscape artist Lyndsie Alguire. Having personally purchased copies of her previous full length on Camomille Records, entitled "Suspended Light"…we are quite pleased to be releasing her new 4 track effort here.
Entitled " Clair Obscur", this 4 track EP sees Lyndsie getting quite a bit further away from her piano centric/vocalized efforts, and more into an abstract and filmic mix of electronics and field recordings. The package will incorporate beautifully printed reproductions of 8 polaroid prints taken of her by her photographer friend, Mat Guerin. The 8 prints, after each being hand typed upon, will be hinge mounted to both sides of a folded, 15″ long, 100 year old educational flash card….each with somewhat strange unfinished sentences thereon, which may be read by lifting back the photos. This fat little photo booklet, with hand stamped mini disc in sleeve, and insert, will come in a hand stamped and adorned 4.5″ square envelope. In an edition of 100 copies. This will be available in early May.
Domestic shipping $5.00 International shipping $11.00