Master Generator | TRS064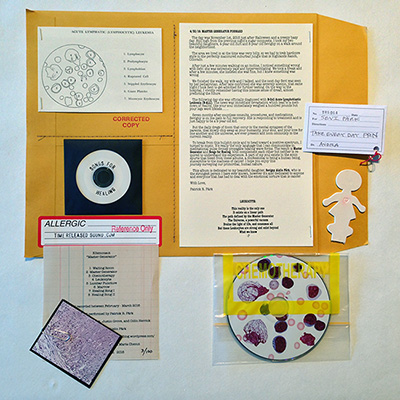 Our first release of the summer is from Colorado based Kösmonaut (Patrick R. Pärk ) is entitled "Master Generator"…This is one of our most serious and heartfelt releases yet, as it is both a love song to the artist's 9 year old daughter, Sevigny and a big "fuck you" to the Leukemia that she is bravely battling at the moment. This is some serious "industrial ambiance" here folks…please give it a listen, and help visualize the cancer cells dying!!
Firstly…all profit from this release will go to the Creston J. Walker Foundation, which is the local Children With Cancer support group that initially helped Patrick and his family.
TRS064 will only be available in a limited edition, uniquely hand made version of 100 copies! This is our first release that will come mailed directly to your door rather than in a box or a padded envelope. Each of the appropriately and intensely themed beauties comes packaged in a large, sewn x-ray envelope. As though it were a package sent from the hospital itself, each comes with pockets holding the factory pressed disc in a chemotherapy bag, an additional 3″ mini CDr of five, "Songs For Healing" in it's own windowed envelope, a tiny pill envelope containing a broken and heart stamped child shaped tongue depressor, a vintage x-ray, various hand printed explanatory inserts with attached microscopic slide blow ups, all of this hand stamped and modified with the usual over-the-top hand made care that TRS always puts into it's packaging for the beautiful music that we release.
Important!! To open this package use a sharp blade or a small sharp pair of scissors and gently cut through the three, white surgical taped sides, while NOT cutting through the sewn left side! It will then fold open and all shall be revealed!
This release will ship the week of June 27th 2016.