"Diagram" | TRS – 44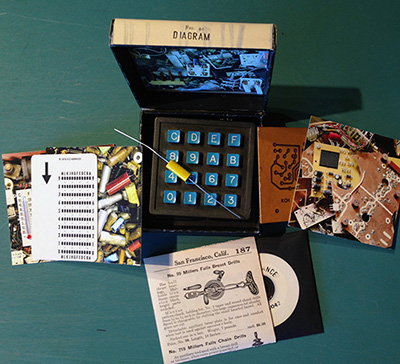 We are very pleased to bring you this new 3" release from Gideon Wolf, entitled, "Diagram". This 4 track, single minidisc of lovingly, electronically treated piano based ambiance will come in an edition of just 65 copies. This seventh and last of the "chocolate box" series comes in the form of an analog memory box of sorts, containing vintage bits of electronics/circuit boards/tubes/transistors/switches/punch cards and other detritus from the cabinets and workshop of Ken Herrick, who kindly allowed us to appropriate these materials needed! Each box is also collaged/stamped and labelled inside and out with the usual and appropriate, antique paper ephemera, and also contains in the lid of the box a set of four ultra hi res, collaged, double sided color mini prints taken in the workshop. As this release is extremely limited, these will only be available from the website.
As usual, the boxes portrayed may or may not be the box you receive… as they are all uniquely assembled.