"13 Houses And The Mermaid" | TRS – 13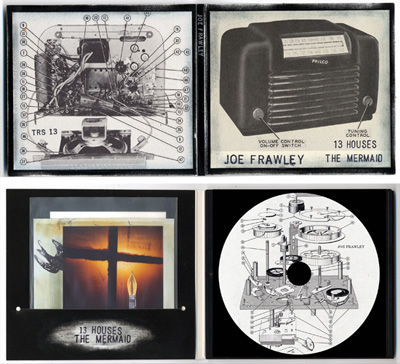 Also available next week will be TRS013….A full length from composer/sound artist Joe Frawley, entitled, "13 Houses And The Mermaid." Somewhat more experimental in nature with it's cut and paste dialogue, filmic references, and unsettling yet melodic David Lynchian undertones and atmospheres, Joe's album takes Time Released Sound in a slightly off kilter direction….to a somewhat darker and more mysterious place, to which we for one, at the label, are pleased to be led!
In an edition of just 80 copies, each of the factory pressed replicated discs will come in a hand distressed/aged black digipak, the front and back of which is collaged with 50 year old Hi Fi Stereo specs and diagrams. Inside, each inner pocket contains insert and an original collaged, painted and uniquely artified Polaroid print.