"Alchemical Wanderings" | TRS – 12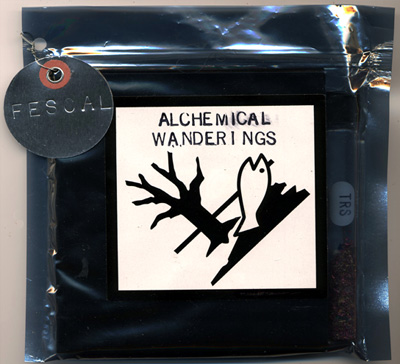 And now for something completely different! After spending over 5 weeks making Victorian music boxes, we've decided to modernize a bit and return to our ambient/drone based roots, with a full length from South Korean based Fescal entitled, "Alchemical Wanderings." This is one long 50+ minute ambient voyage into the inner conscience…for like the alchemists of old, Fescal is searching for that one magical formula…in this case for the beauty, truth and simplicity of sound and it's conspiring emotions.
TRS012 will come in an edition of just 100,…each of these hand worked black digipaks w/ factory pressed disc will come in a see through anti static bag with hand stamped metallic tag. Also included will be a 5″ screw capped pyrex test tube containing a secret TRS blend of semi precious and precious metals, glass and other transposed particulate matter that we have been experimenting with here at the lab, to varying degrees of success! Instructive chemical notations, litmus strips, and other alchemical madness will also be included. This will be available in mid March.
Fescal – Alchemical Wanderings | on Vimeo