"Brittle" | TRS – 07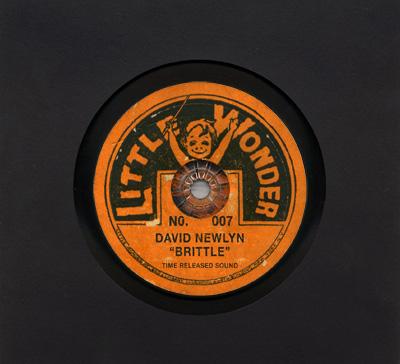 TRS 07 will be a 3″ ep from David Newlyn, who has had a recent release on the Cotton Goods label, and who, himself, also runs the Cathedral Transmissions label. These six lovely tracks have a wistful and melancholic filmic feel to them, and I'm extremely excited about both the music and the packaging for this one. Minimal and delicate, the somewhat old fashioned sounding tone of these pieces fits perfectly with the psedo conceptual nature of their presentation here.
Each of the thermal printed mini discs will come attached by hub to a nearly 100 year old, 5.5″ mini 78 rpm record, called a Little Wonder Record… Like most old 78rpm records, each will come in a holed record sleeve, in a larger 6.5″ square collaged and labelled envelope. Attached by an embossed black band to the inner record sleeve are four 5.5″ square hand worked inserts… printed on 300 lb weight extra heavyweight Moab Entrada printing paper these informative inserts tell the story of Little Wonder Records and provide usueful information regarding care and storage of 78 rpm shellac records. It's going to be outrageously cool looking! The perfect blend of the old and the new, and although worlds apart technology wise, both still actually readable through the spiral groove, one with a needle and one by laser. So different and yet still similar in some beautiful manner!
This will be available only in a limited edition of 78 copies…of course! In a perfect sort of synchronicity David had already titled this ep, "Brittle"…which is exactly what these old records are, and great care will be needed in both shipping and handling them! Consequently I have had to raise slightly the shipping rates for this release, as it will be very difficult to package and ship safely.