"Orlando" | TRS – 39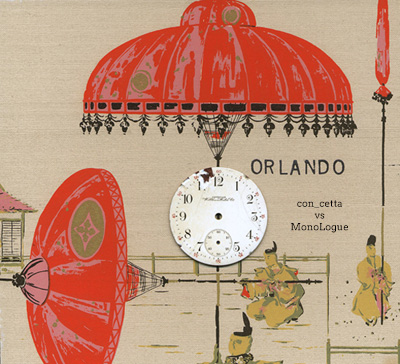 For the first release of 2014, TRS is very pleased to bring you "Orlando", by con_cetta vs Monologue, a split album of sorts, between the two artists con_cetta aka Giuseppe Cordaro, and MonoLogue aka Marie e le Rose. This beautiful album of alternating tracks serves as an imagined soundtrack to the dreamily poetic novel Orlando, by Virginia Woolf. And like the novel itself, "Orlando" plays as an example of modernity for it's time, while still coming across as classic and timeless in it's essential nature. Essentially melodic electronica for the ages… and for the full Orlando experience, please read the novel while listening!!
As usual, this release will be available in two versions. The first deluxe, limited version, in an edition of just 65 copies, comes in the form of a 7.5″ square lidded box, completely covered/collaged and stamped, each with an attached antique enamel pocket watch face. Inside each curtained box is a partially, shall we say, "deconstructed" copy of the novel, a 3d, hand sewn collage of Orlando-ish, vintage paper ephemera and lace, and other appropriate goodies, along with the disc, on hub in the inside of the lid.
There will also be a beautiful digipak version of this release available, in an edition of just 200 copies.