"Set of 6" | TRS – 22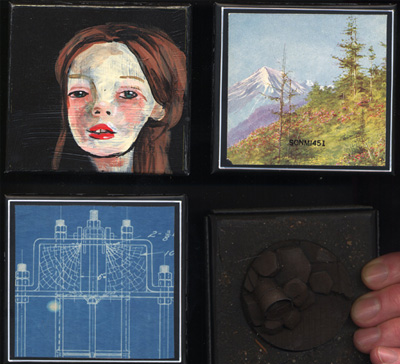 On Tuesday, May 1st we will be taking preorders for the entire set of 6 "chocolate box" releases. You will have to pay for all 6 in advance to get them at the reduced price of $220.00 for the set of 6. They will not all ship at once…the first pair will ship the first week of May, the second two will ship at the end of May, and the third pair will ship in Mid June.
If you buy the entire set of the deluxe limited boxes at the reduced advance price, BEFORE May 10th, you also have the option of buying the entire set of releases as standard 5″ replicated discs in picture sleeves, at the ridiculously low price of $30.00 for the set of 6. These limited sleeved versions may or may not be shipped at the same time as your boxes!! You can notify me of your interest in these later.
This preorder offer for the full set of 6 boxes will be good until May 10th. At that point the price for the full set will go up a bit, and the first two in the series will be available separately at the slightly more costly individual price.
All 6 boxes come in an edition of only 80 copies…
_____________________________________________________________
These are the titles of the 6 boxes and their approximate release dates, and their individual prices…again, these will not be available individually until after May 10th!

Michael Tanner/David Colohan "Taskerlands" $50.00 May 7th
David Newlyn "Ruins" $45.00 May 7th
Sonmi451 "Four Peaks" $45.00 May 25th
Rezo Glonti "The Diary Of The Second Officer" $45.00 May 25th
Kleefstra/Pruiksma/Kuitwaard/Kleefstra "Sinneplakken" $45.00 June 15th
Pleq/Spheruleus "Quietus Gradualis" $45.00 June 15th