"Butterflies And Graves" | TRS – 34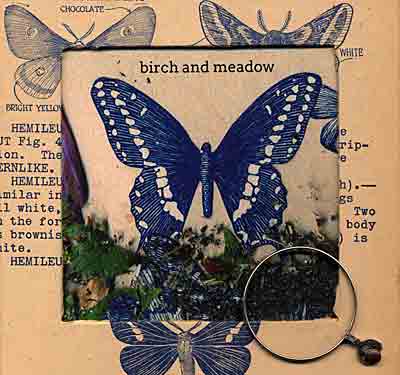 Out this coming weekend is a sparse and melancholic, 32min beauty from Birch And Meadow…entitled. "Butterflies And Graves". Birch And Meadow are David Wenngren (Library Tapes), and Swedish singer songwriter Sara Forslund. Alongside David's spare and lingeringly lovely electronic treatments, Sara vocalizes an emotional soundtrack to an imaginary film featuring Nico and folk legend Shirley Collins, fighting over the man who has left them both and stolen their harmoniums! This is a somewhat dark and meditative… languid and eerie … and breathy and beguilingly melancholic affair indeed.
This release is available in two versions. The first limited deluxe version comes in an edition of 100 copies. Each of these is comprised of a hinged, modified/collaged/printed 5″ reel to reel tape box. The cut out lid is collaged with pages from a 100 year old book on Lepidoptera, with the cut out forming a sort of an ancient and tattered specimen box, and revealing a two sided, quadra folded 5″ x 19″ print. Printed on Moab rag natural 300# paper, one side is printed from a detailed 3 dimensional scan, and the other is stamped with butterflies, each hand colored with leaves and flowers. In the box and beneath the print, comes the factory pressed disc in picture sleeve, and a hand numbered textual insert, all on a bed of mounting material. This album has been mastered by Wil Bolton.
This is also available in a standard picture sleeve version, each with a hand printed lyrics/insert. The shrink-wrap has been slit to accommodate the insert.