"Like Rumours of Hushed Thunder" | TRS – 06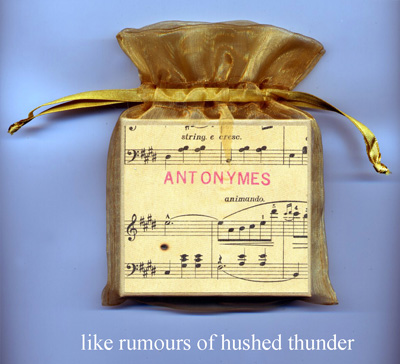 The sixth release from Time Released Sound will be an extremely limited edition 3″ cdr ep from Antonymes. Called "Like Rumours of Hushed Thunder", this release comes on the heels of his newest full length album, "The Licence to Interpret Dreams", out in late April on Hidden Shoal Recordings.
Recorded over the week of the Christmas holidays in 2010, Ian Hazeldine, aka Antonymes, composed this 7 track ep of minimalism infused, piano based loveliness at the rate of one per day. It's quietly hushed tones and softly paced and gentle feel captures perfectly both the warmth of his home and hearth during this timeless, peaceful season, and the snow and cold of the more inclement yet expected weather outside. Understated vocals, a cheap violin, and bits of reverb provide a subtle yet perfect accompaniment to the piano playing itself, and with it's very slight electronic manipulations and tonal variances this ep is a reminder to us, in perhaps now warmer and less relaxed days, that December and all it's distinct and welcoming relaxations are always just around the corner!
"Like Rumours of Hushed Thunder" will only be available in one version, in an edition of only 50 copies.
Each hand stamped mini disc in it's hand lettered sleeve will come inside a uniquely collaged and hand worked 3.5″ square little box with lid. Nestled under the disc on a piece of cranberry colored felt will be a perfectly fitting capital letter A made from individually hand cut and reassembled, somewhat battered
antique piano keys. Burnt into each A with a wood burning tool will be the name of the artist, in cursive script. Other goodies may be included as well!
"Like Rumours of Hushed Thunder" will be available in late May! Those previous customers on my mailing list will be notified of a pre order opportunity at a somewhat earlier date.