TRS – 40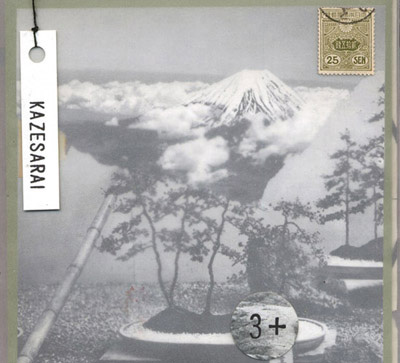 TRS040 will be the newest release from Japanese artist(s) 3+, and is entitled, "Kazesarai". This gentle beauty is a somewhat minimalistic, electronically treated piano based journey into a fantasy landscape of gently rustling bamboo and reeds…flowing rivers… and mountainous mists…the stuff that dreams are made of, indeed…!
Kazesarai will be available in two versions. The first deluxe, limited version comes in an edition of just 80 copies. Each 6″ square, uniquely collaged, inner green envelope owes a debt to both the masters of Ikebana and Bonsai…both collage forms in their own right, and it's imagery channels these ancient arts in a modern and abstracted paper arts fashion. Each inner envelope comes in an outer, hand stamped and tagged translucent vellum envelope, and is also wrapped in a full tissue "obi" made from the pages of a 50 year old book of Bonseki, tray landscape art. An inner, sewn CD sleeve is made from pages of a vintage book of Japanese flower/pattern design.
This release is also available in a digipak edition of 200 copies..