Maps And Mazes | TRS057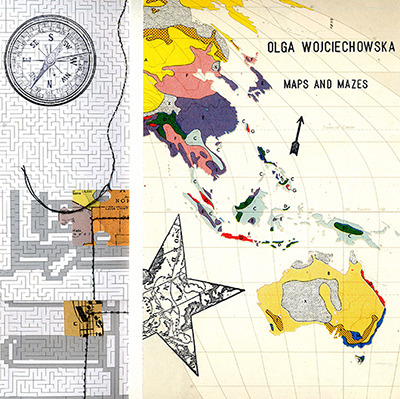 Well…it's the holiday season again, and the little elves at Time Released Sound have come up with something extra special for our year end release. TRS057 is a stunning collection of tracks from Polish composer/violinist Olga Wojciechowska entitled "Maps And Mazes". These 11 pieces were originally written for various international theater/dance and film productions, and their overall feel reflects this performative nature. Electronically treated modern-classical beauties…somewhat dark and moody at times, with it's elegiac violin and haunting horns…yet always elegant and absorbing…it's an absolute honor to be releasing an album of music of this high caliber! This music will take you on a wondrous journey, and will serve as your map through the mazes of your emotions…
This release will come in two versions. The first limited deluxe version in an edition of only 65 copies comes in the form of a hand sewn booklet composed of translucent vellum maps, threaded and intricate mazes, a fabric pouch for the factory pressed disc, all stamped, punched, hand worked and enclosed in a large circular and reconfigured antique educational chart…tidily tucked into a collaged and stamped outer envelope.
There is also a beautiful digipak version in an edition of just 150 copies.
This release will ship the week of December 7th.