Stationary Travels review:
"Through a musical lens" is a short series of reviews focusing on albums that present and explore human experience through music. Each album incorporates field recordings, ephemera, or motifs that revolve around everyday life and memory thus creating an especially intimate connection between their transportive sounds and the listener. 
Through a musical lens: Francesco Giannico – Metrophony [Time Released Sound]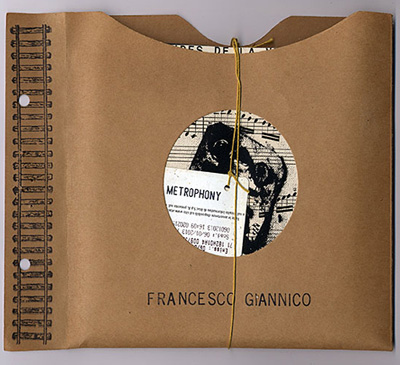 Metrophony by Francesco Giannico
In August of 2013, electroacoustic musician and video artist Francesco Giannico recorded the entire route of the "B" line of the subway in the city of Rome, that connects the Rebibbia station with the Laurentina station, and the "B1″ line that connects the Bologna station with the Conca D 'Oro station.  He then transformed those samples electronically and enriched them with additional instrumentation to produce an utterly absorbing cinematic musical journey for an album and art installation called Metrophony.
The album is presented as a single long form piece which lasts about 40 minutes. It begins exactly as one might expect, with a chattering voices and mechanical sounds that instantly place the listener inside a bustling subway station.  What the first time listener may not expect, however, is just how absorbing and engaging the narrative is about to become as the first musical coda arrives.  As the doors to the train hiss open, strings of reverberating guitar are patiently plucked and suddenly everything slows down.  The cacophony of the crowd recedes into the background and, gradually, synth tones begin to flower. The listener is no longer a passenger, but a transcendent and melancholic observer.
To be compelling, a narrative requires a certain amount of conflict, however subtle it may be. Giannico explains the duality that drives the narrative of Metrophony.  "The metro trip represents a dynamic soundscape in conflict with a static soundscape boxed in itself with a lot of samples already listened in a circular way like the mechanical sounds, doors of the train, train brakes and so on."
It certainly helps that the dynamic musical elements are so gorgeous. Lovely guitar textures, lush swells of synthesizer, and doleful strings dovetail with sounds of the journey.  Between stations, the hypnotic rhythm of the tracks becomes a part of the music. For the most part, the stillness of reverie prevails, but periodically we awaken from the daydream to the sound of braking cars, opening doors, station announcements, new passengers shuffling on board, and the occasional laugh or loud talker. What Giannico has created here is so spellbinding that 40 minutes goes by surprisingly quickly.  In fact, Metrophony has turned out to be one of the most satisfying ambient records this listener has enjoyed all year.
Metrophony is available through Time Released Sound who specialize in artfully bespoke hand made releases. The deluxe limited version (only 75 copies) comes in a vintage, hand stamped, 7" 45rpm sleeve from a 60 year old vinyl binder with the outer envelope tied up with a string from which hangs a used ticket from the Rome metro system. Inside is a set of hand silk-screened 6" square prints each printed on a different sort of paper (ancient ledger papers, music sheets, rice papers, antique vellum, cardboard etc.) as well scraps of paper and ephemeral detritus found on the Rome metro station platforms and trains and the factory pressed CD in a hand stamped cotton sleeve.  A standard digipack version is also available.
Francesco Giannico web site: http://www.francescogiannico.com
Deluxe: http://timereleasedsound.com/shop/releases/francesco-giannico-metrophony-deluxe-version
Standard: http://timereleasedsound.com/shop/releases/francesco-giannico-metrophony-standard-version
Filed under Reviews
Tags: Francesco Giannico, Metrophony, musical packaging, stationary travels, time released sound